This album was delayed a lot and was really hard to produce and to finish. The album was recorded 3 times in different studios.
They started writing new songs late 1995, later went with producer Glen Ballard and wrote more songs on Miami's "Marlin Hotel", they then recorded the songs on the South Beach Studios and Criteria Studios, but Joey left, and other drummer came in, more songwriters, etc. The record label didn't like what they had and once again they had re-record all the songs. This time in NY with a new producer, Kevin Shirley.
New York is where it all happened. Kalodner said he introduced Marti Frederiksen to the band, and it could be some of the early get together as this was like early 1996.
They had been off the road since Dec 19, 1994 and the new album was supposed to be out in November 1995, that's the promise they had with Sony. At the time Tyler had seen Alanis M and was interested in working with Ballard, but it wasn't set in stone it would be Nine Lives. Some rumours said that they still planned to use Fairburn but basically he was booked out solid (although did put a vague commitment in his diary for the band but they blew it). It was evident with the club gigs in 1995, that they had a series of demos or songs ready to put on an album before really starting to record and work with external writers.
A white board of the song they were working on during these session can be seen in their "Vindaloo Music" office, in background of a clip that show Steven and Tom fooling around at the end of episode 2 of the web series about the "Making of Music From Another Dimension". The titles that can be read are possibly:
Trouble
Hole in my Soul
Fallen Angels
Ain't that a Bitch
Taste of India
Falling in Love
Circle
Kiss your past Goodbye
The Farm
Pink
Throws of Emotion
Crash
Fall Together
Sun never Shines
Bacon Biscuit
Falling off
South Beach Studio tapes
South Beach was the place they recorded. I heard that the studio was rather lax in regard security, in 1996, Marlin Hotel, from a band perspective of music ownership. There was stacks of tapes produced and a case of what was copied. They used to catalogue the tapes on a daily basis and then archive them into their vaults – some tunes would have dozens of takes.
A lot of stuff recorded in 96 was with other songwriters such as Cantrell, Hudson, Frederiksen, Child, Deleo, etc. There was various articles/reviews done during and after the Miami recordings saying what they'd done and who with including Hudson on "Innocent Man". A lot of the 96 sessions were with either drum machine or Ferrone on drums rums. Ballard and Frederiksen are very talented multi-talented artists that could work with the band on a recording perspective in playing instruments with them and making demos. A lot of it I think was Tyler and Perry working with Ballard and then bringing the ideas to the rest of the band when ready to record.
This studio tape had a side blank, the "B Side". Sadly that side of the tape listed a bunch of really never before heard song. Here's a pictures of that tape, it's an original copy of the "South Beach Studio" from the 1996 sessions, the tape indicated that this was once Steven's copy. Some how, years and years later, this image leaked:
South Beach Studios
Aerosmith Demo Songs Tape 2/21/96 Tape 10+2
Client: Sony Music
Producer: Glen Ballard
Engineer: Chris Fogel
Assistant Engineer: Shad T. Scott
A: Side
Attitude
When the Monkey Comes
Taste of India
Pink
Loretta
Kiss Your Past Good-Bye
Somethings Gotta Give
The Farm
Where the Sun Never Shines
What Kind of Love
Fallen Angels
B:Side
Circle
Sedona Sunrise
Something
Bacon Biscuit
History of a Man (New Version)
Falling In Love
Up On The Mountain
Trouble
Little Miss Funk it Up
King Kong
Inocent Man
South Beach Studios | 1200 Collins Ave, Miami Beach, Fl 33139 Tel. 305.673.8203 Fax. 305.673.9609
Avatar Studios tapes
Around 2003 a person made several posts in Aerosmith online forums telling everyone he had a lot of "real rare stuff", "Aero Gems" he had found on a street's garbage bin. He had pictures of the band, backstage passes, and even some DAT tapes. These DAT tapes came from the New York sessions at "Avatar Studios" from 1996. He allegedly found the tapes around 1998, during the days of "A Little South of Sanity".
Several DAT (digital audio tape) tapes were found, yet not much songs inside. One had "Seddona Sunrrise", other "Do You Wonder Why?" (a Perry track that would eventually be release in his 2009 solo album) and few other rough demos (most likely recorded by Perry with Frederiken producing and doing raw vocals), and two more with different mixes of "Pink" and "Full Circle" for TV shows, just the studio versions with muted tracks. In all, the DATs listed these songs:
Sedona Sunrise
Do You Wonder Why?
Sun Never Shines
Rough 1
Rough 2
Rough 3
Pink
Full Circle
"Sedona Sunrrise" is there because it was re-mastered in 1996, it was never considered to be on Nine Lives, yet they might have recorded few overdubs for the song, or made a new mix.
Robert DeLeo co-writing
From JB News from the Road:
"…Joe and Steven had Robert Deleo come down to the Marlin Hotel in Florida to write some songs. Although none of the 4 songs that the trio worked up during that time have been used you can still hear Steven humming them from time to time. Maybe they will see the light of day soon."
On August 25, 1997, MTV News reported:
"Robert DeLeo co-wrote three songs with [Aerosmith] for consideration on their latest album, 'Nine Lives.' STP first met Aerosmith in 1994 when STP requested tickets and passes to Aerosmith's L.A. show — they had grown up on Aerosmith music, they told reporters. DeLeo clicked particularly well with guitarist Joe Perry and the two kept in touch. DeLeo visited Perry at his home the following year, and then last year, DeLeo joined Aerosmith in Miami for an extended writing stint. Those sessions produced three songs that were considered for the album, but they missed the cut along with a dozen others–Aerosmith had gone into the studio with 23 some-odd tunes.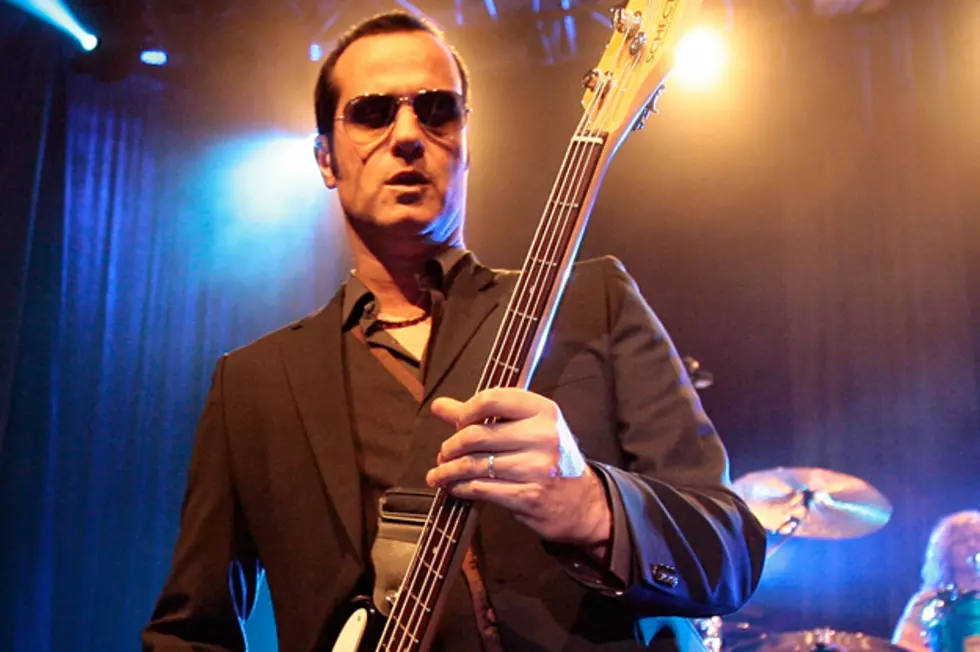 Robert said about writing songs with Aerosmith:
"Yeah. That was pretty amazing. I got asked back in like '95 to go out and write with Aerosmith. And I've gone out several times. I remember pulling up to Joe Perry's house and he was outside and had just got this stereo for his car and he's like, 'hey, check this out.' And then Steven [Tyler] had just drove-up. We all got in Joe's car to check out his new stereo. And I thought I was dreaming! We wrote songs in Joe's basement. I hung with his family. I have to say Aerosmith is just some very nice people. Those guys are very amazing people. […] ultimately they didn't use any of the material I wrote, because I think I was just so nervous. I think I wrote some really great songs with them and they said they will use them. So we'll see."
Other songs on Studio tapes:

1996 Excellent sound, roughs of: Crash – India – Full Circle – Pink – The Farm – Innocent Man – Trouble.
1996 Excellent sound, South Beach studio tape: Attitude – When the Monkey Comes – India – Pink – Loretta – Kiss your past  Goodbye – Something's gotta give – Farm – Where the sun never shines – What kind of love are you on – Fallen Angels – Crash – Full Circle – Something – Bacon biscuit blues – Aint that a bitch – Trouble, different than the one released.
These songs are listed on a tape but the tape is blank: History of man – Up on the mountain – Little miss funk it up – King Kong, so there are more to look for…
1996 Nine Lives Glen Ballard mixes never released, excellent sound: Fallin in Love – India – Pink – Loretta – Farm – Kiss your past Goodbye – 9 Lives – What kind of lover you want – Something's gotta give – Bisquit blues – Aint that a Bitch 1 – Bitch 2. Also on tape: Bridges are Burning, final mix – Fallin off, final mix – Fallin in love, dance mix – Fallin in love, Moby flawed mix – Fallin, Moby fucked mix – Fallin, extended mix – Fallin, Nicole's mix – Heart of Passion demo.